Yeast Free Cinnamon Buns
One morning I wanted to bake some cinnamon buns for breakfast but then I thought if I was to start the process of baking my usual recipe they would end up being for lunch because of the long rising times needed.
If I plan to bake cinnamon buns for breakfast I start the process the night before and put them in the fridge overnight and get them out in the morning for the final rise before baking them.
On this particular morning only cinnamon buns would do so I searched my recipe book for a quick cinnamon bun recipe but I did not find any.  I decided to search on-line and I found a recipe for yeast free cinnamon buns on a blog called kitchen meets girl and I decided to try it.  The photo looked really good and the recipe was simple enough and the results were great.  However I do not think anything beats the yeast cinnamon buns but this recipe is great for when you do not plan ahead.
The baking powder gives them the rise just like it does in cake recipes. I changed a few things when I baked them for example using baking powder only because I had run out of bicarbonate of soda, which the recipe called for.You can make your own buttermilk if you do not have some readily available by adding 1 tablespoon of white distilled vinegar, cider vinegar, or lemon juice to 1 cup of milk. Just stir the vinegar or lemon juice into the milk and then let it standing, at room temperature, covered, for about 10 minutes.
Ingredients
For the filling:
1 cup light muscovado sugar
2 teaspoons cinnamon
1/8 freshly grated nutmeg
1/8 teaspoon salt
1 tablespoon melted butter, melted and cooled
For the dough:
2 1/2 cups all-purpose flour
2 tablespoons granulated sugar
2 1/2 teaspoons baking powder
1 1/4 cups buttermilk
4 tablespoons unsalted butter , melted and cooled, plus 2 more teaspoons to brush on top of the buns just before they go in the oven
 For the icing:
2 tablespoons cream cheese, softened
2 tablespoons buttermilk, milk, or heavy cream
1 cup powdered sugar
or simply dust icing sugar on top (which I did because I did not have cream cheese on one of the occasions I baked them.)
Method
Preheat oven to 218° Celsius (425° Fahrenheit) Line a 23cm (9 inch) cake tin with grease proof paper or spray with non-stick cooking spray.
Mix all the dry filling ingredients in a small bowl. Add the melted butter and toss with fork until it looks like wet sand. Set aside.
To make your dough:
Whisk together dry ingredients in a large bowl.
Add 2 tablespoons melted butter to the buttermilk and whisk to combine.
Add milk mixture to the flour mixture and stir with a wooden spoon until the liquid is absorbed.
The dough is quite wet but that's okay, transfer the dough to a lightly floured work surface and knead until the dough becomes smooth.
A tip I watched a while ago about handling wet dough says instead of flouring the surface you can use some oil like vegetable oil or sunflower oil  instead of flour on a work surface.  Put some oil on your hands too so that the dough does not stick to your hands.  Some doughs are meant to be wet which makes the baked good really light and airy so adding more flour when kneading can make the end result tougher than the original recipe.  Knead with the oil until the dough is not sticky to the touch
Using your hands, pat the dough into a 30cm x 22cm (12″ x 9″) rectangle. Brush with 2 tablespoons of the melted butter, then sprinkle the filling mixture on top, leaving 1/2-inch border around the edges. Press the filling down lightly so it will stick to your dough.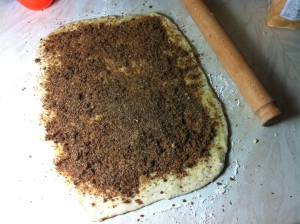 Starting with the long side of your dough, roll dough to form a tight cylinder.
Using a sharp knife cut the dough into 8 equal segments. Slightly flatten each bun to seal your open edges and keep your filling inside.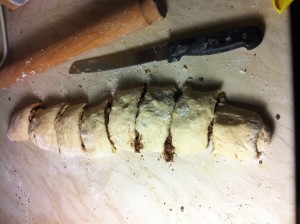 Put one roll in the center of the 23cm (9-inch) cake tin. Place the remaining 7 buns around the perimeter of the pan. Brush the tops with the remaining 2 tablespoons melted butter.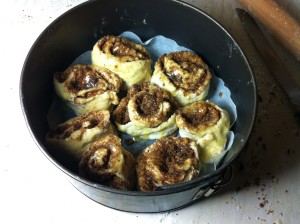 Bake for 25 minutes until the edges of the buns are golden brown.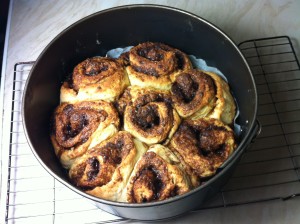 Leave them in the cake tin for about 5 minutes before removing them and putting them on a cooling rack to cool completely and dust with icing sugar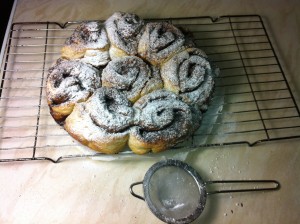 or allow to cool for 5 minutes before icing.
Enjoy!
To make the icing:
Whisk cream cheese and buttermilk/milk/cream together in a medium bowl. Whisk in powdered sugar until mixture is smooth. Spoon glaze over buns, and try not to eat them all.
I hope you will enjoy baking and eating these delicious Yeast Free Cinnamon Buns