Vanilla Cupcake Recipe
Vanilla cupcakes are like a  blank canvas.  There are so many options you can use to decorate them, let your imagination run wild. They make a great base recipe for many other types of cupcakes.
I will share with you my favourites throughout this blog and some of the ways I have decorated them .  You can decorate them as elaborately or as simple as you want depending on the occasion.  Sometimes, a dusting of icing sugar is all they need. In this recipe I will show you this vanilla cupcake recipe.
Vanilla cupcakes recipe
113 grams (1/2 cup) vegetable oil
133 grams (2/3 cup) white caster sugar
3 large eggs
2 teaspoon pure vanilla extract
200 grams (1 1/2 cups) plain flour
1 1/2 teaspoons baking powder
1/4 teaspoon salt
60 ml sour cream or plain yoghurt
Method
Preheat oven to 175°Celsius (350°Fahrenheit)
Line your cupcake tray with paper cupcake liners
Whisk all your wet ingredients, apart from sour cream, together in one bowl .
Add all the dry ingredients to the wet ingredients and whisk until smooth
Finally stir in the yoghurt
Divide the mixture as equally as you can between the 12 cupcake cases
Bake in the oven for 20 minutes or until slightly golden brown on top (test with a cake tester and if it comes out clean they are ready)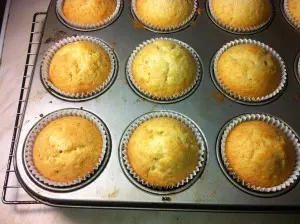 There are so many way to decorate these little cakes so I will dedicate a few pages to the types of icing you can use and decorations you can make .
Click here for the best butter icing ever
Click here for the best cream cheese icing
Click here for tips on how to decorate with fondant icing
Click here for beautiful edible decorations you can make