This is one of the challenges on The Great British Bake Off Series 7 technical challenges. I love to bake along with the Great British Bake off, it helps me try out new skills or improve on the ones that I already have. In this video I will be showing you how to make Viennese whirls
These viennese whirls are from a recipe from one of the judges on the very popular programme. I adjusted the baking time because they will burn within the recommended baking time. I have baked these biscuits before seeing them on the show so I knew what to look out for. If you follow the steps you too will be able to bake these.
Makes 12
For the biscuits
250 grams very soft unsalted butter
50 grams icing sugar
225 grams plain flour
25 grams cornflour
For the filling
100 grams softened unsalted butter
200 grams icing sugar
½ tsp vanilla extract
a few tablespoons of jam
Method
For the biscuits, preheat the oven to 190C/Fan 170C/Gas 5. Line 2 baking sheets with baking paper and using a 4cm round cutter as a guide, draw twelve circles on each sheet of paper, spaced well apart. Turn the paper over so the pencil marks are underneath because if you do not do this the pencil marks will go on the biscuits.
Measure the butter and icing sugar into a bowl and beat well until pale and fluffy. Add in the flour and cornflour and beat well, until thoroughly mixed. The mixture needs to be quite soft because it needs to be piped and if it is too thick it will be very difficult or impossible to pipe.
Spoon the mixture into a piping bag fitted with a medium star nozzle. Pipe 24 swirls using the drawings on the greaseproof paper as a template. Put them in the fridge to harden so that they do not lose their shape when baking. I will say at least 30 minutes.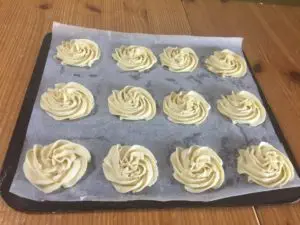 Bake in the centre of the oven for 9-12 minutes, until a pale golden-brown colour. I checked mine and they were ready at 9 minutes. They burn easily so check even at 8 minutes to see if they are ready. Leave them on the baking tray for 5 minutes then transfer, with a spatula, to a cooling rack to cool completely. Do not attempt to transfer them to a cooling rack while they are hot because they will crumble.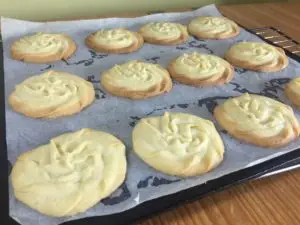 For the filling, measure the butter into a bowl and sift the icing sugar on top. Add the vanilla extract and beat with a wooden spoon or an electric whisk until very light and smooth. Spoon into a piping bag fitted with a large star nozzle.
To assemble the biscuits turn one of the biscuits upside down and pipe some jam on it and then get another biscuit and spread jam on it and then place the jam biscuit on to of the biscuits with the buttercream icing to sandwich them together. You can sieve some icing sugar on top or leave them as they are.