This is probably the longest post on my blog to date and there is a reason for it. In this post I will share with you a French baguettes recipe but before that I am going to share with you my experiences and solutions. Please read through it carefully before attempting to bake French baguettes especially if you have never baked bread before.
I had been meaning to bake French baguettes since they featured on the Great British Bake off but I never got around to it.
In the great British Bake Off they said that to prove the shaped baguettes they need to be places on a well floured couche! What is a couche? Well, it is a piece of cloth used by bakers to prove certain types of breads.
I decided to order one a few days after the show but in they had run out of the couches! Some of the suppliers were expecting new deliveries in a few weeks.
I finally made an order a few weeks later and I had it delivered but it was not until this week I decided to open it and have a go at baking French baguettes.
The whole process went smoothly because I have baked bread before so I know what is involved in the baking process and different types of dough to deal with.
The French baguettes dough is quite wet which makes it a bit tricky to deal with but it can be done. Instead of using flour to knead it and stop the sticking, I use vegetable oil because that stops the dough from drying out.
My first attempt went quite well UNTIL the second rise. I floured my couche and my baguettes rose beautifully.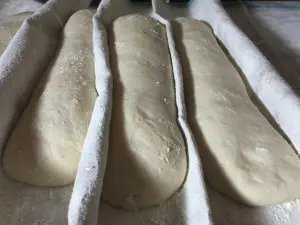 It was only when the baguettes had risen that I realised that I was going to have problems transferring the baguettes to a baking tray. If I was to pick it up it would flop.
I did a quick online search on how to transfer a baguette from a couche to a baking tray. The video I watched showed a transfer with some wooden plank which I forgot the name of.
Anyway, I didn't have it, but I remembered that I had a spare plank from a bunk bed which I used.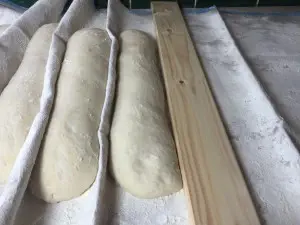 The idea behind the plank is to turn the dough onto the plank and use the plank to transfer French baguettes to the baking tray. As I guessed the baguettes flopped as soon as I transferred them to the baking tray.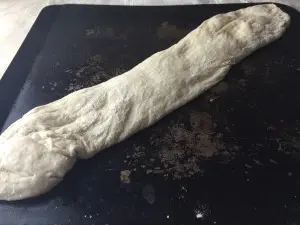 I almost put them all in the bin at this point but I decided to put them in the oven anyway to see what happens. They did rise when baked but not as I would expect French baguettes to do.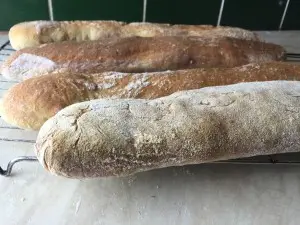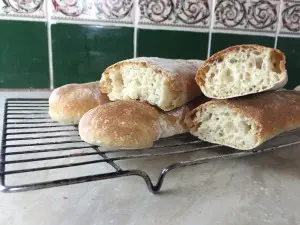 I was not please at all!
I decided to bake them again two days later but without using the couche this time. I realised that transferring the baguettes when they had risen deflated them so I decided to let them rise on the baking tray, this time.
They rose and baked beautifully!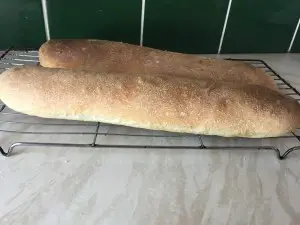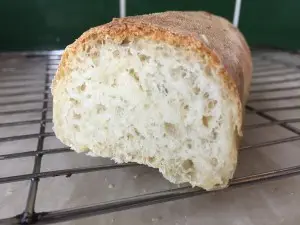 From my experience I suggest that you let the baguettes rise on the baking tray for the second rise.
French Baguettes Recipe
500g strong bread flour
1 teaspoon salt
10 grams yeast
370ml lukewarm water
Method
Put the flour, yeast and salt into a bowl. Make sure your yeast and salt are on opposite sides of the bowl.
Add the water and mix well.
Put your dough on a well oiled surface, oil your hands and start kneading. Add some more oil if necessary.
Transfer it to a large bowl and let it rise until double in size.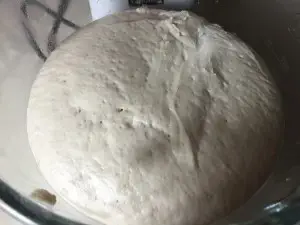 When it has risen transfer to a well floured or oiled surface and divide the dough into four pieces.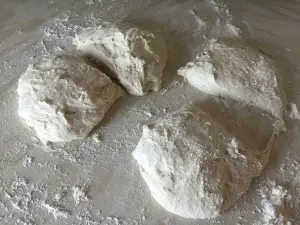 Shape the dough into a French baguette shape and gently stretch it to about 30cm in length.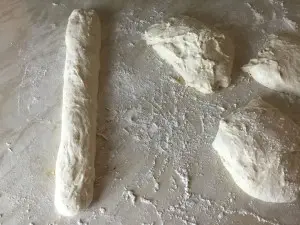 Let them rise again until double the size.
Preheat your oven to 200 Celsius 10 minutes before the rising time has ended. Put a roasting tin in the oven at the same time.
When they have risen put your baguettes in the oven to bake and put some water in the roasting tray and close. The steam it creates is needed to help the crust develop.
Bake for 20-25 minutes until the top is golden brown and the bottom should be brown too.if it's not put it back in the oven for a few more minutes.
When they are ready put on a cooling rack and let them cool slightly or completely and serve!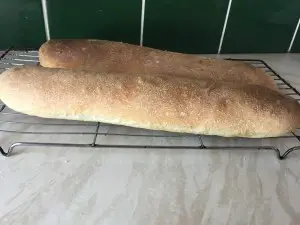 Enjoy!