In this coconut loaf cake recipe I will be using dessicated coconut and coconut milk in the batter to give a rich flavour of coconut in the cake. Desiccated coconut is coconut meat which has been shredded or flaked and then dried to remove as much moisture as possible. The coconut milk I buy comes in a can and you will not find it in the milk section in supermarkets in my area.
I love coconut flavour and this cake is a coconut lovers dream cake.
I hope that you will enjoy making this simple coconut loaf cake recipe.
Ingredients for the coconut loaf cake recipe
170 grams butter
200 grams caster sugar
3 large eggs
1/2 teaspoon salt
260 grams plain flour
1 teaspoon vanilla extract
1 1/2 teaspoons baking powder
100 grams unsweetened dessicated coconut
1 cup coconut milk
Ingredients for the topping
1 cup icing sugar
a few tablespoons of coconut milk
1/4 cup toasted unsweetened dessicated coconut
Method
Preheat oven to 175 Celsius.
Butter and flour a 1.5 litre loaf tin.
Cream butter, vanilla extract and sugar together.
Add the eggs, one at a time, and mix well between each addition.
Add the flour, baking powder, salt, dessicated coconut and the coconut and mix well until there are no lumps left.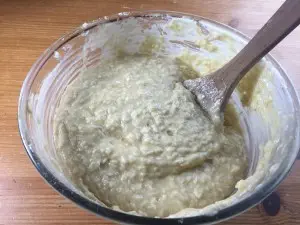 Pour the mixture into the prepared loaf tin and level it out.
Bake in the oven for 55-60 minutes. Test with a toothpick or cake tester. If it comes out clean it is ready.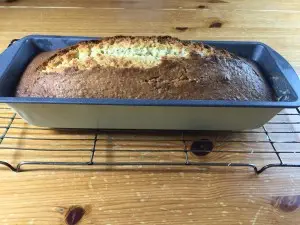 Let it cool in the cake tin for 10 minutes before transferring to a cooling rack to cool completely.
Topping Method
While the cake is cooling , make the icing.  Mix the 1 cup of coconut with enough coconut milk to make the right consistency you need (about 3-5).
Toast the dessicated coconut in a pan on medium heat until slightly brown.  Do not leave it because it burns easily.
When your coconut cake has cooled top it with the icing and sprinkle on the dessicated coconut.  Wait a few minutes for the icing to dry before cutting and serving.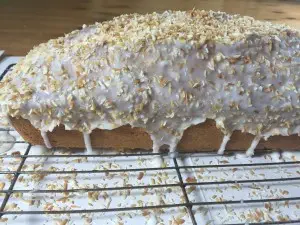 If you liked this recipe you may like these coconut macaroons recipe