Simple Water Icing
I usually make this simple water icing when I want decorating that is not too time consuming yet still achieves beautiful results.  You can make it as runny or as thick as you like.
It can be used to ice cupcakes, biscuits and to decorate gingerbread men.  it is simple enough for children who love baking to make and they can use it to decorate their gingerbread men or any of their simple baked goodies like fairy cakes
Ingredients
A bowl of icing sugar, the amount will depend on what you want to decorate
Water
A spoon
Food colouring (optional)
Method
Put some icing sugar in a bowl
Add some water a little bit at a time to the consistency you need.  If you make it too thick it will be difficult to spread and too runny it will drip down the sides of the cakes or biscuits.  This is the time to add food colouring if you are using any.
Spread on top of the cakes or biscuits and let it dry before eating.  If you are using sprinkles, sprinkle them on top before the icing dries and then let them dry. Sprinkles (optional)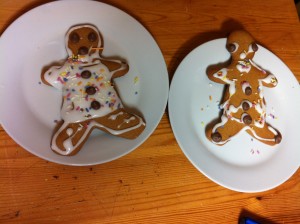 Variations
You can use lemon juice or orange juice instead of water.