Banana bundt cake
When I have a few very ripe bananas left at the end of the week I tend to bake banana cakesof some sort.  They are at their sweetest when they develop black spots and are perfect for baking with.
Sometimes I will go looking for some very ripe bananas to bake with in the supermarket, if I have 'sudden urge' to bake with bananas but they are difficult to come across so when I buy bananas for the fruit bowl I buy a few extra baking ones to give them time to ripen for when the 'urge' appears.  I have also been known to keep a few bananas in the freezer, all I need to do is defrost them first.  I first heard of this idea from a friend and at first I thought she was pulling my leg but she insisted that she does it a lot.  I tried it a few times but it is not a habit because I do not have excess amounts of bananas lying around but if you do then you are more than welcome to try freezing them.
Over the years I have built up quite a collection of various banana cake or banana bread recipes that I often refer to because they are a favourite in our house.
This one always goes down a treat and does not normally last long. In this recipe I am going to show you how to bake a banana bundt cake.
Ingredients
256 grams (2 cups) plain flour
3 teaspoons baking powder
1/2 teaspoon salt
1 teaspoon cinnamon
256 grams(1 1/4  cups) caster sugar
1/2 teaspoon ground nutmeg
76 grams (1/3 of a cup) vegetable oil
3 ripe bananas, mashed
1 cup sour cream or plain natural yoghurt
Method
Preheat oven to 175°Celsius/350°Fahrenheit
Prepare your  25cm (10 inch) bundt pan by greasing it generously with butter and flouring it
Put the mashed bananas in a large bowl, large enough to mix all your ingredients
Add the oil, eggs and sugar and mix well with a wooden spoon
Then add all your dry ingredients and finally the sour cream.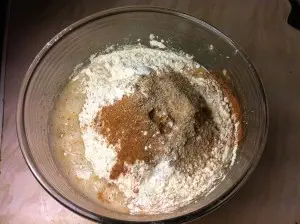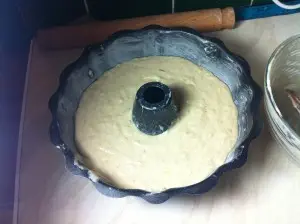 Bake for 50mins or until tester comes out clean, if you are tempted to check you can check after about 35-40 mins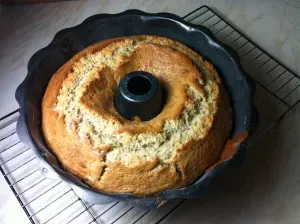 Let it cool in the tin for 10 mins before turning it out onto a cooling rack to cool completely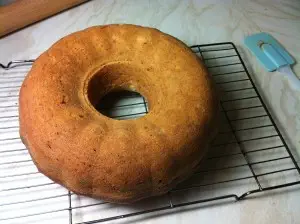 You can sieve icing sugar on top to serve or enjoy as it is.
You will notice that with most of my recipes I do not tend to ice them, either I use a dusting of icing sugar or drizzle some water icing.  It cuts down on the calories. .