I had never baked with parsnips before but I decided to try them out when I wanted to bake a carrot and banana cake but I did not have any carrots yet I had plenty of parsnips. I ended up baking a parsnip cake with bananas which are entirely optional.
Some family members can be quite fussy so I decided to keep my substitution quiet.  Had I told them I am using parsnips and not carrots  the majority would have said they would not eat a cake with parsnip.
All I did was substitute carrots for parsnips in my usual carrot and banana cake.  If you have baked a carrot cake before you will realise the cakes are really moist because of the water content in carrots.  Parsnips do not have as much water so the cake is slightly drier but still delicious. No one noticed the difference. A three year old seemed to notice because he asked if there was coconut in the cake.  I guess he did notice there was something different but just could not tell quite what it was.
Ingredients
280 grams self raising flour
2 teaspoons baking powder
1 teaspoon cinnamon powder
1/2 teaspoon ground nutmeg
1/2 teaspoon salt
100grams light muscovado sugar
75g caster sugar
175grams grated parsnips
175 ml vegetable oil (I use rapeseed oil)
3 large eggs
2 ripe bananas, mashed
50 grams walnuts or pecans chopped (optional)
Method
Preheat the oven to 180C/350F
Grease and flour a 9 inch (23cm) bundt tin generously, with butter
Place all the wet ingredients into a bowl and mix
Add the sugar and stir
Finally add all the dry ingredients and the nuts, if using and mix well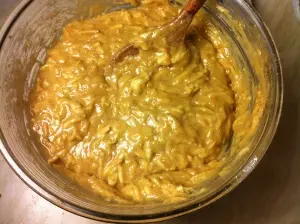 Put mixture into the bundt tin and bake in the oven for 35-40 minutes or until well risen and golden brown. Test with a cake tester or toothpick inserted in the middle and if it comes out clean it is done.
Let it cool in the cake tin for 10 minutes before transferring to a wire rack to cool completely
Tip
If you do not have a bundt cake tin you can use a 23cm/9inch round spring form cake tin (bake for 1 hour 5minutes or until well risen and golden brown)or a tray bake tin (for 30-35mins or until well risen and golden brown) and cut the cake into squares to serve.
Always test you cakes with a cake tester or toothpick in the middle, if it comes out clean it's ready.
To decorate
Dust with some icing sugar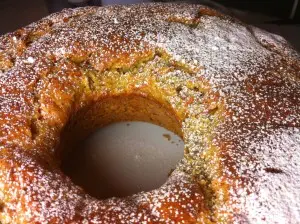 Or
Cream cheese icing
200 grams cream cheese
1 teaspoon vanilla extract
100 grams icing sugar
Cream cheese icing method
Mix everything in a bowl and beat until smooth and spread over the cooled cake.
Serve and enjoy the parsnip and banana cake recipe