Lemon and Orange Biscuits
I have always wanted to but some biscuit stamps but never got around to ordering any. One day I was in the mall on the look out for anything to do with baking and I came across a cookie stamp and it was the only one left on the shelf so I bought it.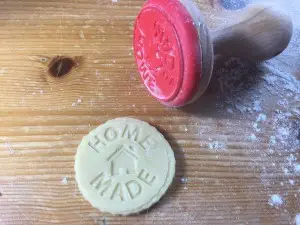 When I went to the mall again today I saw another biscuit stamp but a lot cheaper than the first and I decided to buy it too to see how it compared to the first one I which I still had not used since buying. When I got home I decided to bake one of my favourite biscuit recipes to try out the stamps. They were a bit fiddly and I did not know how hard to press them down for and they were sticking to the biscuit dough.
Anyway, after a few tries I got the hang of it and I was very impressed with the results. I just need to press down harder  next time with the more expensive stamp. I prefer the stamps of the much cheaper cutter because the lettering is much clearer and they bake much better and most of the lettering is clearer without pressing down as hard as the more expensive stamp. (The cheaper stamp is on the right.)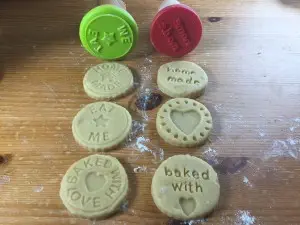 In this recipe I will show you how to make lemon and orange biscuits. You can still bake these without a stamp. Just roll the dough out and cut out your shapes and follow the same baking steps as the biscuits with the stamp
Ingredients (Makes about 24 with the stamp)
150 grams softened butter
150 grams caster sugar
1 teaspoon vanilla extract
1 large egg
1/4 teaspoon salt
300 grams plain flour
zest of 2 lemons
zest of one medium orange
Method
Cream the butter and sugar together
Add the zests and vanilla extract and mix
Add the egg and mix
Add the flour and salt and mix well into a dough ball.
Put the dough in cling film, and flatten it, put it in the fridge until it firms up and becomes easy to roll
Dust your work surface with flour and roll out your dough to about 5mm thick and use your stamps to stamp out whatever designs you have and then cut them with a biscuit cutter roughly the same size as your stamp
Put them on a biscuit tray and put them in the fridge to firm up before baking.
Preheat the oven to 180 Celsius and then bake the biscuits for 14 – 16 minutes
When they are ready remove from the oven and put on a cooling rack to cool completely