Whoever knew that there was a Cornish pasty association? No, I did not just make that up! In this video I will show you how to make Cornish pasties, easy recipe, as well as make the shortcrust pastry to go with them.
According to the Cornish pasty society the mandatory filling ingredients for Cornish pasties are:
– sliced or diced potato
– swede (often referred to as turnip)
– onion
– diced or minced beef
– seasoning to taste, primarily salt and pepper.
No meats other than beef, and no vegetables other than those listed in the mandatory ingredients are to be used in the filling. The meat content must not be less than 12.5% of the whole pasty and vegetable content must not be less than 25%
The listed mandatory filling ingredients must be uncooked at the time of sealing the product.
The pastry can be shortcrust, rough puff or puff depending on the bakers' individual recipe. After filling, the pastry can be glazed using a glaze based on components of milk or egg or both, which will provide its golden colour. The pastry case is savoury and robust enough to retain shape throughout the cooking, cooling and handling process and serves to avoid splitting or cracking.
For Cornish pasties to be so called when sold commercially they have to be made in Cornwall, England, UK
In this recipe I am going to show you how to make Cornish pasties.
Filling
500 grams beef mince
175 grams potatoes, peeled and diced into small cubes
175 grams swede, peeled and diced into small cubes
1 medium onion, chopped
salt and pepper to season
1 beaten egg to glaze
Method
Put all the filling ingredients, except the egg, into a bowl and mix
For the short crust pastry (makes 6)
400 grams plain flour
1/2 teaspoon salt
100 grams cold and diced butter
200 grams cold water
Method
Put the flour and salt in a bowl
Rub in the butter with your hands
Add the water and mix with a wooden spoon until it is absorbed and then use your hands to make it into a ball
Do not over knead the dough
Put some flour on your work surface and roll the dough out, do not make it too thin because it will tear when you put the filling inside.
Use a 20cm in diameter circle, to cut out some rounds
Start filling the circles on one side with the filling and fold over the other half and crimp the sides. You can use water to help crimp the sides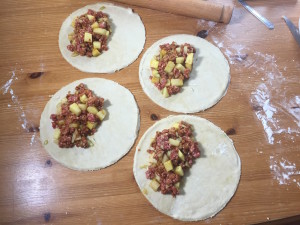 Place the pasties on a baking tray and brush with the beaten egg and bake at 220 Celsius for 15 minutes
Reduce the heat to 170 Celsius and bake for another 50 minutes. The egg tends to make the pastry seem cooked when it is not so about halfway through the baking cover the pasties with foil to prevent the tops from burning, remove it when there are 5 minutes left of your baking time to make the pies 'crispy'.