Chocolate marshmallow tea cakes tasted great. They are very fiddly to make and need a lot of patience but are definitely worth making.
Equipment and preparation: You will need a silicone mould that has 6 x 7.5cm/3in wide, half sphere moulds. It looks like this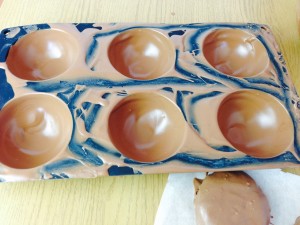 Mine is black but they come in different colours. You can buy it here http://amzn.to/2HES0Pb (affiliate)
You will need the following
For the biscuits
For the marshmallow
Method
To keep your chocolate shiny, temper your chocolate by melting 200 grams of it over a pot of boiling water and then remove from the heat and add the remaining 100 grams and stir. You can watch a video on how to temper chocolate here
Leave aside to cool slightly – you can't line the moulds if the chocolate is too runny.
Preheat the oven to 170C/325F/Gas 3.
Remove the biscuits from the oven and cool on a wire rack.
Coat the inside of the moulds with the melted chocolate. The thickness of the chocolate should be enough to make them sturdy but not too thick. This is best done with a spoon, using the back to run the chocolate around the moulds. If the chocolate is too runny it will mean that the top of the dome is too thick and the side too thin.
Set aside to set. Do not put the domes in the fridge as the chocolate will lose its shine.
Meanwhile dip the cooled biscuits in the remaining melted chocolate, covering them completely (you may need to melt more chocolate). You can either dip the biscuits in the chocolate or spread the chocolate onto the biscuits with a palette knife. Place the coated biscuits onto parchment paper to dry.
Make this marshmallow fluff recipe at home
Spoon the marshmallow mixture into a piping bag. (If you do not have a piping bag just spoon the marshmallow in to the chocolate covered moulds)
Melt the remaining chocolate, and place into a disposable piping bag with a small piping round nozzle or just put in a piping bag if you do not have a nozzle. Set aside to cool and stiffen up a bit, but not harden.
Pipe the marshmallow into each chocolate-lined mould just up to the top.
Snip a 2cm/¾in end off the piping bag with the chocolate in it.
Carefully pipe some chocolate on the marshmallow and a rim of chocolate around the biscuit base and swiftly place the biscuit on top of the marshmallow filled dome. Smooth the join with a knife.
Leave the teacakes to set until completely cool and sealed together.
Very carefully remove the completed teacakes from the mould – be careful of fingerprints on the glossy dome.
Place on a plate and keep cool – but do not refrigerate, to make sure the chocolate keeps its glossy shine.