Chocolate and vanilla swirl cupcakes recipe
Sometimes when you cannot decide between vanilla and chocolate it is nice to have both.  For this recipe I used my usual vanilla cupcake recipe divided it into two and just added cocoa to the other half of the mixture.  Actually. I had planned on baking some vanilla cupcakes and chocolate cupcakes for my friend who just had a baby.
Whilst the vanilla cupcakes were baking in the oven I started getting my ingredients for the chocolate cupcakes ready and then I realised I did not have enough cocoa powder and I did not have enough time to run out and buy some so I improvised and made these chocolate and vanilla swirly ones because I wanted to use up the chocolate icing I made and I did not want to ice my plain vanilla cupcakes with chocolate icing.
I will show you how to make Chocolate and vanilla swirl cupcakes recipe
Ingredients
192 grams (1 1/2 cups) plain flour
2 teaspoons baking powder
1/4 teaspoon salt
32 grams (1/4 cup) cocoa powder
61 grams (1/4 cup) sour cream or plain yoghurt
2 teaspoons vanilla extract
112 grams (1/2 cup) vegetable oil
134 grams caster sugar
3 large eggs
For the Icing
50grams plain or dark chocolate
25 grams butter
2 tablespoons golden syrup
256 grams – 384grams (2-3) cups icing sugar
2-3 tablespoons of warm milk
Method
Preheat oven to 175°C (about 350°F)
Line a muffin tray with some paper cupcake cases
Put the oil, vanilla, caster sugar and 3 eggs in a bowl and mix well with a whisk
Add all the dry ingredients to the above mixture
Finally add the sour cream and whisk until smooth
Divide the mixture between two bowls and add the cocoa powder to one of them and mix until smooth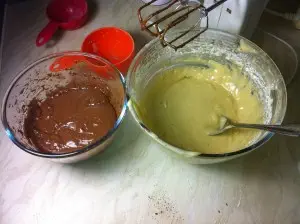 Divide the mixture into the 12 paper cases by putting a tablespoon each of vanilla and the chocolate mixture and then swirling them before the go in the oven with a toothpick.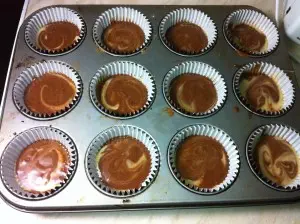 Bake in the oven for 20 minutes or until a cake tester comes out clean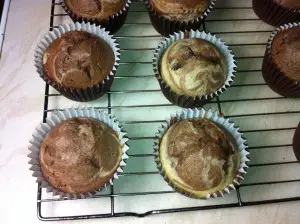 To make the icing
Since I had run out of the last bit off cocoa powder in making the chocolate and vanilla swirl cupcakes, yet I really wanted to make chocolate icing I went through my baking cupboard and I found some dark chocolate.  I then decided to use it to make up a recipe for chocolate icing on the spot.
Method
Put the 50 grams of chocolate in a heat proof bowl or microwave bowl and add the 25 grams butter and two tablespoons golden syrup.
Melt them in the microwave or over a hob over a pan of simmering water, do not let the bowl touch the water
If it is hot let it cool down before adding the icing sugar and milk and whisk until nice and smooth
Use as much or as little sugar as you want depending on the sweetness you want.  if you are going to pipe the icing making it thick and of piping consistency
Prepare your piping bag and fill with icing and pipe over the completely cool cupcakes.  If you ice warm cupcakes the icing will melt.
They should look like this depending on the piping nozzle you use.