A Battenberg cake is very pretty looking and the pink and white contrast is beautiful. I used this Battenberg cake tin which is very easy and simple to assemble.
Here is a bit of history of the Battenberg cake : It is said the cake is named in honour of the marriage of Princess Victoria, a granddaughter of Queen Victoria, to Prince Louis of Battenberg in 1884. The name refers to the town of Battenberg.
175 grams butter
175 grams caster sugar
175 grams self raising flour
3 medium eggs
1 teaspoon vanilla extract
red or pink food colouring paste
to decorate
4-5 tablespoons apricot jam
350 grams marzipan
icing sugar or cornflour for dusting
Method
Pre-heat the oven to 180 Celsius
Assemble, grease, line and flour the Battenberg tin.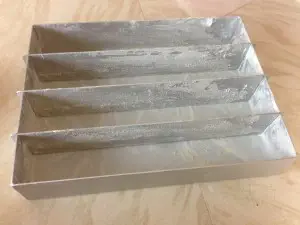 Put the butter and sugar in a bowl and cream it until light.
Add the eggs one at a time and beat well after each addition
Add the vanilla extract and flour and mix until smooth
Divide the mixture into two and add the red or pink food colouring into one half and mix well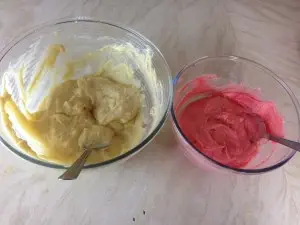 Spoon the mixtures into the prepared tin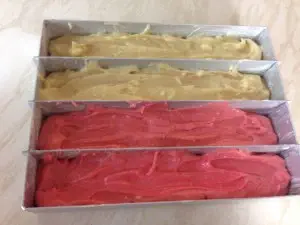 Bake in the oven for 30-35 minutes, test with a toothpick to see if it is ready.
Allow the cakes to cool in the tin for about 5 minutes. If the tops are not even, cut the domes off to level the cakes before turning them onto a cooling rack and peeling off the baking paper to cool completely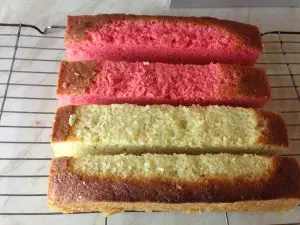 Roll out the marzipan onto baking paper sprinkled with icing sugar or cornflour into a rectangle approximately 20cm x 30cm
Warm the apricot jam and then spread on one of the long sides of the plain cake and join it to the pink cake and place it on top of the marzipan. Spread more jam on top of the cakes and put the pink cake on top of the plain one and the plain one on top of the pink one.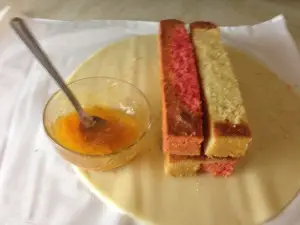 Now brush the jam all over the cake including the sides and top
Roll up the cake in the marzipan and trim of any excess.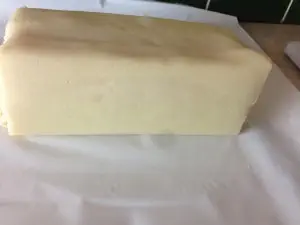 You can decorate the top with the left over marzipan e.g marzipan flowers/leaves
Serve and enjoy !