Baking for friends
I love baking at random times and that often means surprise goodies for friends, family, neighbours, our local gymnastics club and tennis club. When I am baking for friends I sometimes turn up unannounced just to drop off whatever it is that I would have baked.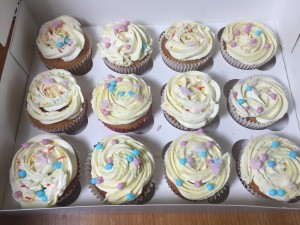 On Friday I decided to bake and decorate some cupcakes for the tennis club, gymnastics club and friend. It was a lot to take on but it was something I really wanted to do because I had not baked in almost a week because my oven had stopped working and now that it had been fixed I could not wait to bake again. It was almost like I was making up for lack of baking that week.
I decided to bake my now favourite bubblegum foodie flavour cupcakes and caramel cupcakes (recipe coming soon)
I baked 66 cupcakes in total (half caramel and half bubblegum), I have baked a lot more in one go before. I decorated the bubblegum foodie flavour cupcakes with bubblegum foodie flavour butter cream icing, which is my favourite buttercream icing with a few drops of bubblegum foodie flavour.
For the caramel cupcakes I decorated them with caramel buttercream icing which is also made with my favourite buttercream icing with a few tablespoons of caramel added to it. I then added caramel 'chocolate' on top.
To make the two different buttercream icings I tripled the buttercream recipe and then when it was ready I divided it into two different bowls and I added bubblegum foodie flavour to one of them and caramel to the other.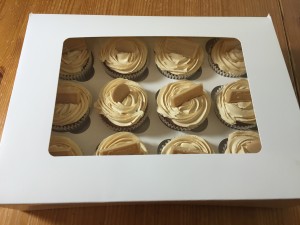 I made the first drop at the gymnastics club and then the tennis club and finally to my friends house. All the cupcakes were a hit as usual especially the bubblegum foodie flavour cupcakes amongst the children.