I decided to use my Nordic Ware U.K citrus loaf pan to bake what I call the Victoria bundt cake. I called it a Victoria bundt cake because originally it was  Victoria sponge cake recipe baked in a Nordic Ware U.K citrus loaf pan.However, I have since changed the recipe but I have not changed the name.
Ingredients
150g butter, unsalted softened, plus extra for greasing
 50ml vegetable oil
250g self-raising flour
150g golden caster sugar
200g eggs (about 3 large eggs), at room temperature.
2 tablespoons plain yoghurt
1 teaspoon vanilla extract
Filling
3 tbsp raspberry jam
Method
Preheat the oven to 175°C/350°F/Gas Mark 4, then grease and flour your Nordic Ware U.K citrus loaf pan and put it to one side
Put the butter, vanilla extract and sugar into a bowl and cream it together. Add eggs one at a time and mix well between each egg added. Add the flour and yoghurt and mix until smooth, you can use a hand whisk if you cannot get it smooth enough.
Put the mixture in to the Nordic Ware U.K citrus pan and smooth the surfaces.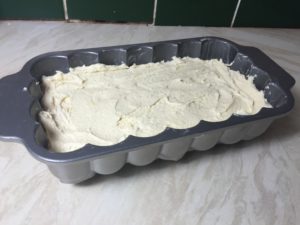 Bake in the preheated oven for 40-45 minutes (depending on your oven) or until well risen and golden brown and the cake feel springy when lightly pressed. Check on it after 35 minutes and if it is browning too brown and you think it might burn cover with foil and continue baking.
Leave to cool in the tin for 5 minutes then transfer to wire cooling racks to cool completely. If it is stuck use a spatula to go around the cake tin to loosen it.
Cut the cake in half and then spread jam on one side and American buttercream icing. or  Swiss meringue buttercream
I used a star nozzle to pipe some buttercream icing on top of the jam and then placed the patterned side of the cake on top and dusted some icing sugar on top.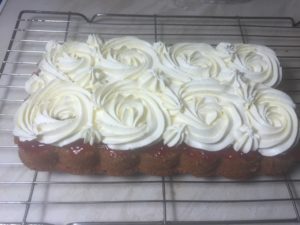 Put the Victoria bundt cake on a serving plate and cut and enjoy.
You can buy the cake tin here :