Vanilla Fudge Recipe
Vanilla fudge is quite popular, simple to make and above all delicious. It can be varied by adding different ingredients to it like chopped nuts or dried fruit. Vanilla fudge is great for giving as gifts.
I hope you will find it easy to follow this very simple vanilla fudge recipe.
Ingredients
450 grams caster sugar
56 grams butter
170 gram can evaporated milk
130 millilitres milk
1 teaspoon vanilla extract
sprinkles, optional
Method
Line a 18cm or 20cm cake tin with greaseproof paper and put some sprinkles on the tin if you want to achieve the same effect as I did in the image above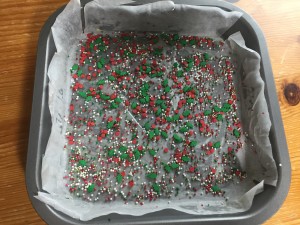 Put all the ingredients,except for the vanilla extract, in a medium to large heavy based saucepan and heat gently on a hob until the sugar has dissolved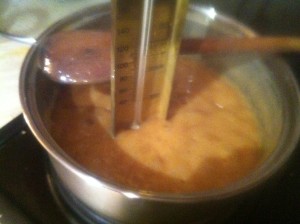 Bring to a gentle boil until the temperature reaches 108-110°C on the sugar thermometer or the jam stage, stir occasionally to prevent sticking and burning
Remove from the heat and let it sit for 5 minutes on a cool surface and add the vanilla extract
Beat the mixture with a wooden spoon for about 30 seconds and then pour into the prepared tin.
Pour the mixture into the prepared cake tin and leave until almost set, about 5 minutes, then use a sharp knife to cut into squares and leave to set and cool completely
If you wait for the fudge to cool completely before cutting it will be difficult to cut and will crumble and break
Inspired by : Favourite sweets and toffee recipes – Traditional Home Made Confectionery