Checkerboard cakes look amazing and if you have the right cake recipe they will taste amazing too. Checkerboard cakes sometimes also spelt chequerboard cakes make a great wow factor at children's parties and the inside of them can be coloured to fit in with the theme of any party. In this video I will be showing you how to assemble a three layer checkerboard cake recipe. However this method can be used to assemble a 6 layer checkerboard cake too because instead of one tall 6 layer cake I decided to bake two, three layer checkerboard cakes.
The cakes I baked are 8 inch round and here is the recipe for one cake which I used. I decided to make each cake mixture individually but you can just multiply the recipe by the number of layers you wish to bake and divide into different bowl two colour them and then put in your cake tins to bake.
If you do not have the right amount of cake tins just bake in batches
You will need the following circle cutters
about 4 1/4 inch round and one that is about 2 1/4 inches round
Ingredients (for ONE 8 inch cake)
100 grams self raising flour
100 grams caster sugar
1 teaspoon vanilla extract
1 large egg
pinch of salt
80 ml plain yoghurt
50 ml vegetable oil
Method
Preheat oven to 175 Celsius
Mix all your ingredients in a bowl and add the colouring and mix until smooth. Put in your prepared cake tin and bake in the oven for 18-20 minutes. Test with a toothpick, if it comes out clean it is ready.
When they are ready put the cakes on a cooling rack to cool completely before assembling.
When your cakes are cooled cut out two circles from each, one with the big circle and one with the small one and then you will end up with three circles from each like this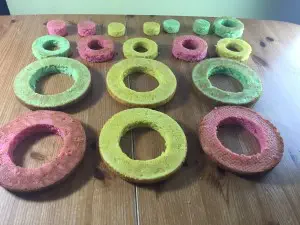 Then you place cakes of different colours inside the original cake you cut out and then finally place the missing colour inside so you should have three different colours for each cake like this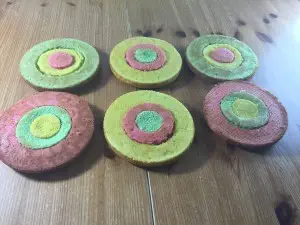 You can then assemble the cakes with icing of your choice. I used butter cream icing for the inside layers and to crumb coat it coloured white chocolate ganache and sprinkles for the outside.
You can then cut and reveal the wonderful layers inside.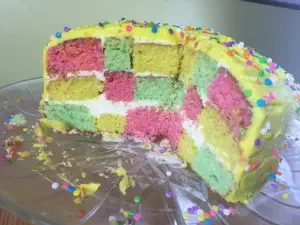 You can also try this two layer vanilla and chocolate checkerboard cake
You can buy cutters and cake tins by following these links
4 inch cookie cutter : http://amzn.to/2rCK6B3
Set of round cookie cutters : http://amzn.to/2k2zpWR
Cake tins : http://amzn.to/2rCyBcM