Nordic ware mini heritage bundtlette tray
I have a few Nordic ware bundt tins on my cake tin wish list and this Nordic ware mini heritage bundtlette tray was one of them. I eventually bought one yesterday and I cannot wait to try it out.
Ever since I came across Nordic ware bundt cake tins I knew I just had to have one. I especially wanted the heritage bundt tins! I had seen the big heritage tin and I loved the design. When I saw the Nordic ware mini heritage bundtlette tray I new it would be awesome for those times I wanted to bake mini cakes.
With a lot of cake tins nowadays even when greased or buttered and floured the cakes still stick and the only way they will not stick would be to use baking paper.
Despite the grooves and designs in Nordic ware bundt tins greasing the tin well is all that is needed and the cakes come out nice and clean and do not stick. I love this about them.
I have a lot of fun baking in these tins and I always like to see how they come out. The bundt tins conduct heat really well so they cook evenly and I have not had any problems baking in these tins yet.
For this bundlette tin I am going to try out one of my favourite vanilla cake recipes and see how they come out! I am going to definitely share with you all the results of my first bake in one of my most favourite Nordic ware bundt tins which I think are awesome.
This is what the tin looks like on top.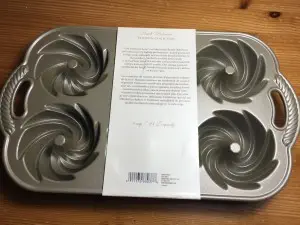 The Nordic ware bundt tins are quite pricey but they are well worth it. They definitely can last a lifetime and can be passed on from generation to generation. You cannot put a price to quality.
I will be sharing with you different cakes I bake in this heritage bundtlette pan and some of my other Nordic ware bundt tin recipes!
Click here for my first recipe Nordic ware mini bundlette coconut cake recipe