Millionaires shortbread recipe has a shortbread base, caramel middle and chocolate topping. This makes a great tray bake and perfect for bake sales or just for sharing. It is quite quick and straightforward to make. I make it with a 'thin' layer of caramel but for those who like more caramel feel free to double the caramel ingredients.
Most big condensed milk cans are 397g so if you are doubling just use that size can, the 3 gram difference will not be a problem.

Ingredients
250g butter or margarine, softened, plus extra for greasing
100g caster sugar
350g self-raising flour, sifted
Salted Caramel for the middle
200g evaporated milk
125g butter or margarine
125g caster sugar
1/2 teaspoon salt (or amount you prefer, optional)
2 tablespoons golden syrup
Chocolate topping
200g dark or milk chocolate, broken into pieces
Method
Preheat the oven to 180°C, gas mark 4 and grease an 40 x 26cm Swiss roll tin.
To make the base, cream the butter and sugar together in a mixing bowl until light and fluffy. Fold the flour into the creamed mixture until well mixed. Press the mixture evenly into the base of the prepared tin and bake in the centre of the preheated oven for about 12 minutes until golden.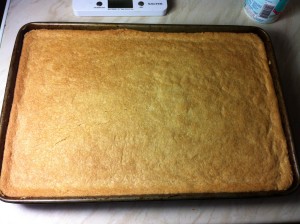 Meanwhile, make the filling Place all of the filling ingredients into a saucepan, bring to a gentle boil, then continue to simmer for 5-10 minutes, stirring continuously. You need to stir quite vigorously as little bits of caramel will stick to the pan but should come away easily and dissolve.
Once the sugar has dissolved and the mixture has turned a light caramel colour, take the pan off the heat and spread the filling all over the cooked base. Leave to cool.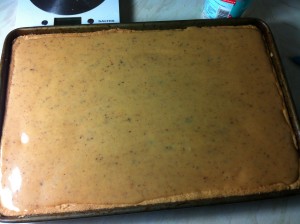 Melt the chocolate in a bowl set over a saucepan of simmering water, making sure the base of the bowl does not touch the water. Stir until the chocolate is completely melted and the pour it over the caramel. Leave to set for 2 hours or until the chocolate is firm.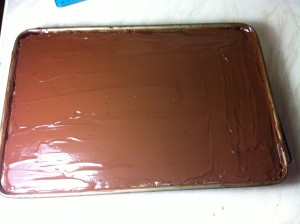 Cut into pieces and serve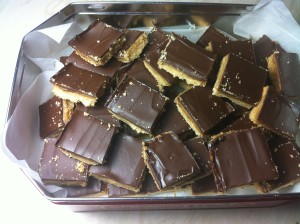 I made 55 small pieces of the Millionaires' shortbread