In this video tutorial I am going to show you how to cover a round fruit cake with marzipan.
You will need the following
A round fruit cake (to bake one there is a recipe here
750 grams of Marzipan
a rolling pin
2 tablespoons apricot jam or any other jam of your choice
a small sharp knife or pizza cutter
a pastry brush and some icing sugar
For this particular cake I am using the upside down method just to give the cake a more even surface on top. I then got pieces of marzipan and filled in the holes that had been created in the cake from the raisins. This can happen to fruit cakes. You will notice that when you turn a cake upside down it is not completely flat so what you will need to do it to fill the gaps with more marzipan so that is is lovely and rounded when you put your marzipan on top.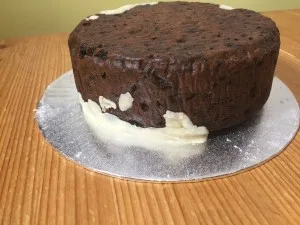 When you have filled in all the gaps and made your cake level it will look something like this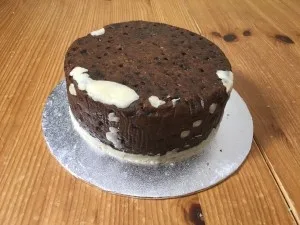 You can then follow the steps below
Method
Cover the cake with apricot jam to help the marzipan stick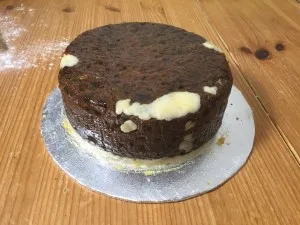 Roll out the marzipan to the required thickness, using icing sugar on the work surface to prevent it from sticking
Roll our marzipan onto the rolling pin and gently place it on to the jam covered cake
Smooth it down with our hands or a cake smoother
Cut off any excess marzipan, you can use the marzipan to make some decorations to go on your cake.
Covering a cake with fondant is very similar to covering a cake with fondant apart from the fact that you now have an even cake and you do not have to fill in any holes. You can learn how to cover a cake with fondant here.
Assuming that you will need a cake board to transfer your cake on to when you finish decorating, there is a video showing you how to cover a cake board here. You should cover your cake board at least 24 hours before you need it so that it hardens and it doesn not dent easily when you place your cake on it.