One day whilst walking in the mall, I was approached by someone offering free samples of something I had never heard of until that moment. They were fresh, soft and had a bread like texture. The only pretzels I had come across were the small hard, biscuit like type that normally come in packets and I assumed that's what all pretzels were like. In this recipe I will show you how to bake soft cinnamon sugar pretzels
When I got back home I decided to search online for pretzels and I found a few different ones, some were hard pretzels and some soft.  I eventually came up with a recipe after a few experiments and I have stuck to it.  It is my go to recipe for each time I want to make cinnamon Sugar Pretzels.
Ingredients
250 grams plain flour
250 grams bread flour
350 ml lukewarm water
7 grams active dry yeast
2 tablespoons light brown muscovado sugar
1 teaspoon salt

For dipping
120 ml warm water
1 tablespoon bicarbonate of soda
Decorating
100 grams caster sugar
2 teaspoons cinnamon powder
4 tablespoons melted butter
Method
Put the lukewarm water in a bowl, large enough to hold all the ingredients, sprinkle yeast and stir to dissolve
Add sugar and salt and stir to dissolve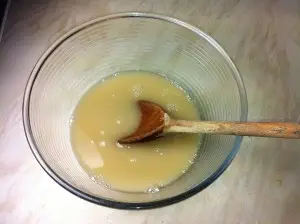 Add the flours and mix with a wooden spoon until almost combined
Knead dough with your hands whilst in the bowl until you form a rough ball
Put dough onto a work top and knead with your hands until smooth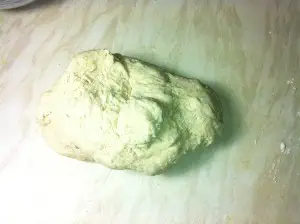 Put the dough in a clean bowl and let it rise for at least 40mins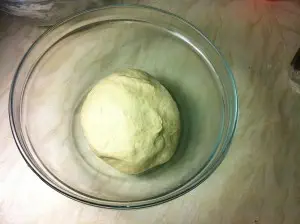 Whilst it's rising grease 3 baking trays, like the ones you would use to bake cookies on. If you don't have three you can bake in batches, cleaning and re-greasing the tray after use
When dough has risen prepare dipping water by putting the 1 cup of warm water and 1 tablespoon of bicarbonate of soda together in a bowl and mixing
Divide the dough into 12 pieces, about 78grams each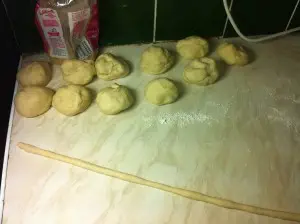 Roll into long rope, about 90cm long
Shape into a pretzel shape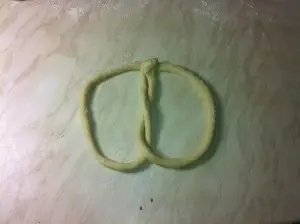 Dip the unbaked pretzel into the bicarbonate water mixture, carry on until all the pretzels are shaped. If you are baking in batches only make the pretzel shapes when they are ready to go onto the tray.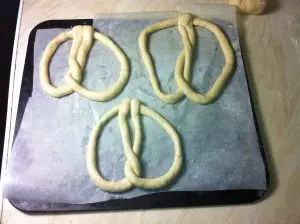 Let them rise again for 40minutes
5 mins before they finish rising, preheat the oven to 230° Celsius/450° Fahrenheit
Bake for about 10 minutes or until golden brown
When they are cool enough to handle brush with the melted butter and roll them into the cinnamon sugar mixture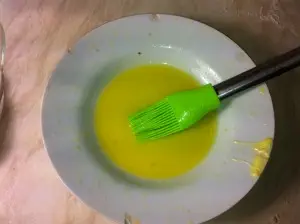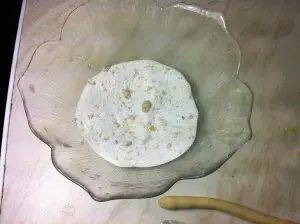 Variations
Brushed with melted butter only
Brushed with melted butter and sprinkle some rock salt