Homemade cherry bundt cake
This recipe is Mary Berry's from the Great British Bake Off.  It looked so pretty so I decided to bake it to see if I could pull it off. I will show you too how to bake this homemade cherry bundt cake.
When the Great British Bake Off is on I like to bake as many of the challenges put forward for the bakers.
I was quite impressed with the results.I followed the recipe exactly as it was and I did not change anything.
Ingredients
200g/7oz glacé cherries
225g/8oz self-raising flour
175g/6oz softened butter, plus extra for greasing
175g/6oz caster sugar
1 lemon, finely grated zest only
50g/1¾oz ground almonds
3 large free-range eggs
For the decoration
175g/6oz icing sugar
1 lemon, juice only
15g/½oz flaked almonds, toasted
5 glacé cherries, quartered
Preparation method
Preheat the oven to 180C/350F/Gas 4. Grease a 23cm/9in bundt tin or savarin mould with butter.
Cut the cherries into quarters. Set aside five of the quartered cherries for the decoration later. Put the rest of the quartered cherries in a sieve and rinse under running water. Drain well then dry thoroughly on kitchen paper and toss in two tablespoons of the flour.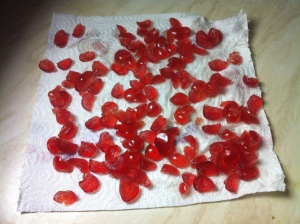 Measure all the remaining ingredients into a large bowl and beat well for two minutes to mix thoroughly. Lightly fold in the cherries.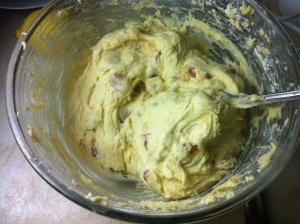 Turn into the prepared tin.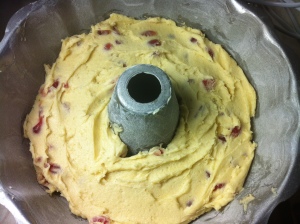 Bake in the preheated oven for 35-40 minutes until well risen, golden-brown and a skewer inserted into the centre comes out clean. Leave to cool in the tin for 10 minutes then turn out and cool on a wire rack.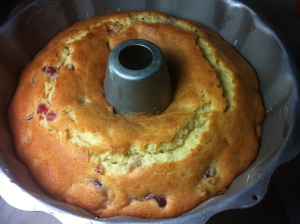 For the icing, mix the icing sugar together with the lemon juice to a thick paste. Drizzle over the cooled cake using the back of a spoon, sprinkle over the toasted almonds and reserved cherries.
I hope you enjoyed making this homemade cherry bundt cake.