The best vanilla American buttercream icing
Sometimes finding the best buttercream recipe for you can be quite challenging considering the numerous blogs and websites out there claiming that theirs is the best.  It really might be good for someone else but maybe not just for you so when you do find the right one, you just keep going back to it over and over again. In this video I show you how to make the best vanilla American buttercream icing.
I am not much of a fan of buttercream icing but I do like the way it transforms a rather simple cake to something absolutely stunning.  That, coupled with a few sprinkles, takes the humble cupcake to entirely new levels.  Elegant enough to grace any occasion.
226 grams (1 cup) butter, softened
320 grams (1 1/2 cups) icing sugar
3 teaspoons of warm water (or more or less depending on the consistency you are after)
2 teaspoons vanilla extract or seeds from one vanilla pod
1/8 teaspoon salt
Gel colours of your choice
Method
Beat butter in a bowl, with an electric whisk, for about 2 minutes to make it smooth
Add icing sugar, salt and water and beat until light and fluffy
The longer you beat the fluffier it gets, do not worry about over beating ( I have been told that this does not happen)
Options: You can colour all the buttercream icing a different colour or divide the mixture into different bowls and colour each bowl a different colour.
Put in a piping bag and decorate your  vanilla cupcakes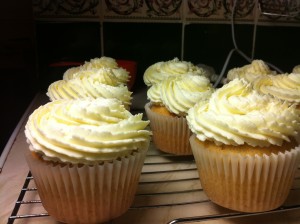 Have a great time decorating with the best vanilla buttercream icing
NEVER MISS A TIP
Subscribe today and get notified when I post new videos tutorials, tips and recipes.