From my research fruit upside down cakes can be traced back to the middle ages.  They were made in heavy based saucepans on an open fire.  Different types of fruit were added on top of the cakes and usually any seasonal fruit was used. In this video I show you how to bake fresh pineapple upside down cake.
Pineapples were just a new twist to upside down cakes and they became really popular after 1903 when canned pineapples were first introduced by Jim Dole of the Hawaiian Pineapple Company.   Glace cherries add more colour and make the cake even prettier. For this recipe you can use tinned pineapple or fresh pineapple for the upside down cake
For this fresh pineapple upside down cake recipe I am using glace cherries for the middle of the pineapple rings but you can leave them out completely if you do not like them.
Ingredients
For the pineapple syrup
55 grams butter
160 grams light soft brown sugar
pineapple rings
glace cherries
For the cake
113 grams unsalted butter, softened
200 grams caster sugar
2 large eggs
1 teaspoon pure vanilla extract
200 grams self raising flour
100 ml milk
1 teaspoon baking powder
1/8 teaspoon salt
Method for the pineapple upside down cake
Preheat oven to 175 Celsius
Butter and line a 23 cm diameter round cake tin with a loose bottom or a springform cake tin.
Put the butter and brown sugar in a pot and melt it on the stove and stir until the butter has melted.
Leave it on the stove until it begins to bubble and then remove from the heat.
Pour the caramel into the prepared cake tin and then arrange the pineapples on top. Put the glace cherries in the centre of your pineapple rings
Method for cake preparation
Cream the butter, vanilla and sugar together then add the eggs one at a time and mix well between each egg addition.
Add the rest of the ingredients and mix well until smooth
Pour the cake mixture on top of the caramel and pineapple and level out with a spoon and bake in the preheated oven for 40-45 minutes. Test with a toothpick or cake tester inserted in the cake, don't push it all the way down to the bottom of the tin because it will come out wet because of the pineapple and caramel.
Leave the cake in the tin for 15 minutes and then remove from the cake tin. Use a spatula to go around the cake and then get a serving plate. Place the plate on top of the cake and flip it upside down. Tap the bottom of the cake tin a bit to loosen the pineapples and then lift it off. It can be eaten warm or you can leave it to cool completely.
Serve and enjoy.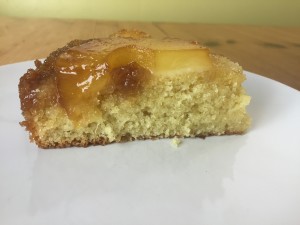 You could also try these pineapple upside down cupcakes