How to make Royal icing for piping
In this video I show you how to make Royal icing for piping which my friend Busi from cakesandsugarcraftsupplies.com uses to do some Royal icing piping on her cake and come come up with this very beautiful and elegant design.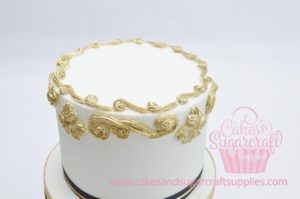 You can watch how Busi uses this recipe to pipe by clicking this link to take you to her video tutorial, how to pipe with Royal icing.  After the piping she will show you how to paint gold on the dried Royal icing design.
Royal icing is quick and simple to make and it makes great designs which set very well.  As well as piping on cakes, Royal icing can be used to cover cakes, for example on top of fruit cakes which are already covered in marzipan.
I can also be used to pipe borders around cookies and other Royal icing designs.  To flood the inside of cookies you can thin it out by adding some water into it until a consistency is reached and then you leave it to set, preferably overnight.
You just need two ingredients for this particular Royal icing recipe.
Ingredients
454 grams icing sugar
3 large egg whites
Method
In a large bowl, add in the icing sugar and then add in the egg whites
Whisk the mixture together until nice and thick, this can take 15 – 20 minutes depending on what you use to whisk it.
If you use a balloon whisk it will take longer than using an electric whisk but it can still be done.
NEVER MISS A TIP
Subscribe today and get notified when I post new videos tutorials, tips and recipes.