How to bake a moist chocolate cake
It is no secret that moist chocolate cake is my favourite cake ever.  I have tried a few recipes in the past and some are just not as moist as the recipe claim, or at least not to my liking, or quite simply they require too many ingredients to make it moist. I eventually found my ideal recipe after a few experiments and searching.  I am now going to share with you how to bake a moist chocolate cake.
The sour cream in this cake makes it super moist as well as the fact that it uses oil which helps.  If you don't have sour cream plain yoghurt will do.  Over the years I have learnt to adapt recipes by using whatever I have in the house or fridge and not to go out to buy every single ingredient the recipe calls for because sometimes through experimentation you can create a recipe even better than the original but I  only advise that for those who have a few years baking experience.  If you are new to baking I always recommend that you follow the recipe to the letter.
Ingredients
200g caster sugar
220g light muscovado sugar
100g  cocoa powder
260g plain flour
2 teaspoons baking powder
2 teaspoons bicarbonate of soda
1/2 teaspoon salt
1 teaspoon coffee powder or granules (if using granules dissolve them in the water)
240 ml warm water
120ml cup vegetable oil
240ml sour cream
2 large eggs
2 teaspoons vanilla extract or a teaspoon of vanilla paste or seeds from a vanilla pod
Method
Preheat oven to 180°Celsius
Butter and line with grease proof paper a 23cm x 30cm x 5cm (9inch x 12inch x 2inch) or nearest measurements.
Mix all the dry ingredients except the muscovado sugar into one large bowl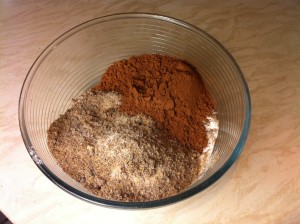 Mix the wet ingredients in another bowl and add the muscovado sugar to it and stir until the sugar has dissolved or it is no longer lumpy.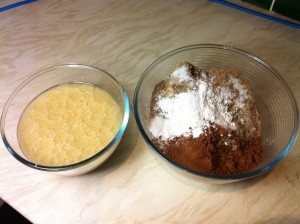 Pour the wet ingredients into the dry ingredients and whisk, with a balloon whisk, until it is smooth.  You may need a hand-held electric whisk for this if you have one.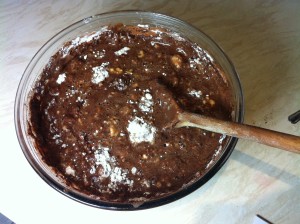 Pour the mixture in to the cake tin and bake for 40mins or until a cake tester inserted into the middle of the cake comes out clean
Remove from the oven and let it rest on a cooling rack for 10 minutes before turning the cake out onto a cooling rack to cool completely, using another cooling rack on top of the cake tin to flip the cake upside down will help.  Peel of the grease proof paper before letting it cool completely before icing.
For the Icing
2 tablespoons cocoa powder
50g butter
2 tablespoons golden syrup
300g icing sugar
1 tablespoon hot water
pinch of salt
1 teaspoon vanilla extract
Sprinkles (optional)
Method
Melt the butter and golden syrup together with 1 tbsp water and add the vanilla extract
Sift in the cocoa powder and salt
Beat in the icing sugar, to make a smooth icing.
Add a little extra boiling water if needed.
Spread over the cool cake and sprinkle on some sprinkles
Cut into some squares and serve.  You can be really creative with this.
Variations:
I have baked the same recipe in two 20cm round cake tins before and you can also use two 23 cm round cake tins
All you need to do is:
Butter and line with grease proof paper two round  23cm(9 inch) cake tins or two 20cm (8 inch) ones (they will rise quite high but don't worry they won't spill over) and bake for 32 mins and test both with a skewer and if it comes out clean they are ready, if not leave for about 5 more minutes and check again because ovens do vary but in mine they are ready in 32 minutes.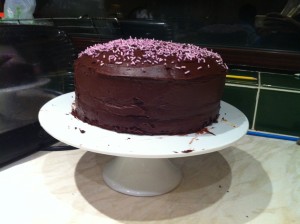 I have also baked the same recipe in a 23cm bundt.
Enjoy this moist chocolate cake recipe.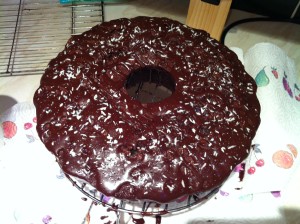 I hope you now know how to make moist chocolate cake using this how to bake a moist chocolate cake recipe.
NEVER MISS A TIP
Subscribe today and get notified when I post new videos and recipes.