Egg free scone recipe
Until as recent as a couple of weeks ago I had never thought about what category a scone falls under. When I was creating my categories it got me thinking so I asked my sister who loves scones and she said she said she did not know and I should google, which I did. I will be sharing with you this egg free scone recipe which I use a lot.
It seems that some say it is a cake and some say it is a type of bread, a quick bread that uses baking powder as a raising agent instead of yeast.
Whatever they are, they are a great accompaniment for traditional afternoon tea. Traditional scones are baked plain and served plain with some jam and clotted cream. These egg free scones are not only for people with egg allergies, they can be enjoyed by those who do not have allergies too. I hope that you will enjoy baking with this egg free scone recipe.
Ingredients
420 grams plain flour
6 teaspoons baking powder
Pinch of salt
55 grams butter
40 grams caster sugar
300 millilitres milk
Method
Heat the oven to 220C/425F Lightly grease a baking sheet
Mix together the flour, baking powder and salt and rub in the butter
Stir in the sugar and then the milk to get a soft dough
Turn on to a floured work surface and knead very lightly. Pat out to a round or use a rolling pin
Use a round 6cm cookie cutter to stamp out rounds and place on a baking sheet
Lightly knead together the rest of the dough and stamp out more scones to use it all up
Brush the tops of the scones with milk. Bake for 12-15 minutes until well risen and golden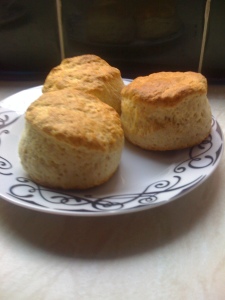 Makes 11. (The amount can vary depending on the size of the cookie cutter you use)
NEVER MISS A TIP
Subscribe today and get notified when I post new videos tutorials, tips and recipes.