Egg free chocolate chip cookies recipe
Nothing beats a  warm gooey cookie fresh from the oven. I only like a certain look on my cookies otherwise they just do not feel right.  With thousands of cookie recipes on-line and in some of my recipe books I just could not find my perfect one and after a few tries and mixing and matching and trial and errors I developed my special Egg free chocolate chip cookies recipe that is always a hit.
These chocolate chip cookies are egg free so are great for people with egg allergies.
Whenever I try to bake a different chocolate chip cookie recipe I get disappointed but this recipe never disappoints
Ingredients
115grams butter
58grams light muscovado sugar
58grams caster sugar
1 tablespoon golden syrup
1 teaspoon vanilla extract
175g self-raising flour
200grams chocolate chips
Method
Preheat the oven to 180°C (350°F)
Get two baking sheets ready (If you only have one, you can bake  this chocolate chip cookie recipe in batches)
Put the butter and sugars into a bowl and beat well with a wooden spoon until light and 'fluffy'.  You can use an electric whisk if you want
Add in the vanilla extract and golden syrup.
Add the flour and mix until almost combined and then add the chocolate chips and mix until fully combined
Using your hands shape the dough into balls about 33-35grams each and place on baking sheets and leave a lot of space between them because they spread when baked.
Bake for about 15 minutes until they are a pale brown on top.
Remove from the oven and let the chocolate chip cookies cool for about 2 minutes on the baking sheets and transfer to cooling rack to cool completely or eat them when warm.
You can have lots of fun with these and try adding different things.  I have made them with 100g smarties or M&M's and 100g chocolate chips with sprinkles on the dough balls and they look like this when baked.
Enjoy these chocolate chip cookies recipe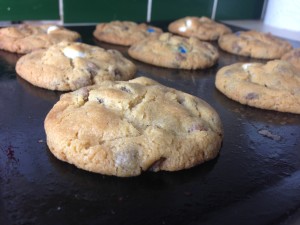 NEVER MISS A TIP
Subscribe today and get notified when I post new videos tutorials, tips and recipes.