Cake International NEC Birmingham Mar 2016
I'm heading to the Cake International NEC Birmingham March 2016 for the first time today. I'm so excited!
An update!
My feeling of excitement was yesterday when I was heading there but those feelings of excitement were extinguished as soon as I arrived. It was the most boring show I had ever been to. I had heard so much about the Cake International show and how big and exciting it was. I had not paid much attention to the hype but since I started blogging I decided to go and see for myself what it was all about.
As it was advertised as The world renowned, much loved, and always anticipated Cake International (refer to the image below) I thought it was going to be amazing but how wrong I was. As soon as I was near the show Hall I realised there was something wrong. There were a lot less people than I would have expected for a show of that magnitude.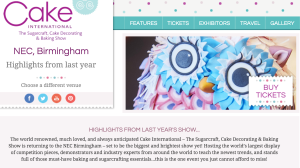 Entering the hall did nothing to make me excited at all. It was really difficult to get excited by anything there. Some of the demonstrations were suitable for sending a baby to sleep. There were four which stands I found remotely interesting and they were selling stuff. I really liked the flavoured icing sugars which I bought a few off and another stand with some natural flavourings which I also bought.
I actually laughed out loud at the gold prize winning cupcakes. My 10 and 11 year olds said they could bake some like that and even they think that the design was too simple to win a Cake International competition and we agreed. The cakes on the other hand were really awesome.
After my experience yesterday I swore I would never go back but when I was chatting with some of my cake friends and they reassured me that the November Cake International at the NEC Birmingham is the biggest and the best and I should go. I have been told that this Cake International show was the first time it was held in March and that explains why it was so small. I am not sure if that is a reason for being boring.
Anyway, I will go to the Cake International NEC Birmingham in November 2016, if I can be bothered, to compare the two.
NEVER MISS A TIP
Subscribe today and get notified when I post new videos tutorials, tips and recipes.