Basic bloomer loaf bread recipe
Bread baking is actually much simpler than it appears.  It seems to take a very long time because of the waiting time for it to rise.  I usually bake bread recipes the night before if I want them for breakfast. This basic bloomer loaf bread recipe is easy and a great starting point when you are new to baking bread.  If I want the bread for breakfast I make it the night before. I make the recipe until just before the second rise time, shape it and put it in the fridge.
Never let it rise the second time if you want to put it in the fridge, it will flop and it will not rise again properly, trust me, I learnt the hard way. The next morning remove from the fridge and let it rise until doubled before baking.
Ingredients
600 grams Strong White Bread Flour
25 grams butter
2 tablespoons vegetable oil
1 sachet easy bake yeast (7 grams)
2 teaspoons caster sugar
1 1/2 teaspoons salt
350 ml lukewarm water
to decorate
1 medium egg
pinch of  salt
poppy seeds
Method
Put the flour in a bowl, add the butter and rub with your fingers until well rubbed in
Add the yeast, sugar and salt and stir to mix together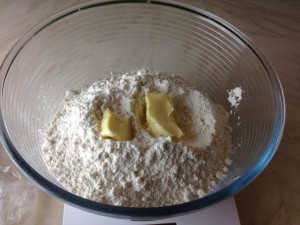 Add the water and two tablespoons vegetable oil and mix with a wooden spoon first and when most of the water has soaked into the flour, use your hands to mix it into a dough and knead briefly.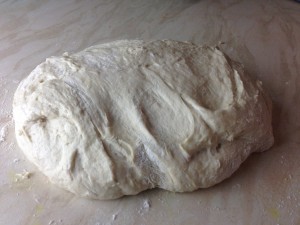 Turn it out onto an oiled, not floured, work surface and knead with your hands for about 10 minutes until smooth.
Put the dough ball back into the bowl, you can brush the bowl with vegetable oil,  first and cover with cling film, leave it in a warm place and let it rise until double in size, it can take about 1-2 hours.  The speed at which it rises depends on the warmth of the place it is in.
Butter and flour a swiss roll roll tin (about 32cm x 22cm x 2.5cm )
Put the dough onto a work work surface and knead it for a minute and shape it into an oblong shape and then transfer it to the the swiss roll tin.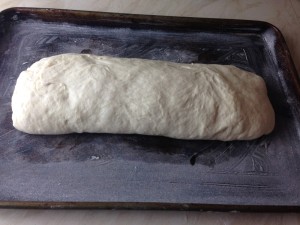 Cover it lightly with lightly oiled cling film and let it rise until doubled in size, about an hour.
5-10 minutes before it is ready, preheat your oven to 200 Celsius
When the dough has doubled in size brush with the egg and salt and sprinkle with the poppy seeds

bake in the oven for 35-45 minutes.  You test to see if it is ready by knocking or tapping the bottom of the basic bloomer bread.  If it sounds hollow it is ready.  If the bottom is too soft and does not sound hollow put it back in the oven for a few more minutes