Almond Pound Cake Recipe
Pound cakes are traditionally called pound cakes because they use a pound each of butter, sugar, flour and eggs. Over time the ingredients of pound cakes have changed and a lot can be done with the basic recipe. A lot can be added, for example, fruit, ground nuts.
In this recipe I will share an almond pound cake recipe.
Ingredients
175 grams caster sugar
175 grams soft unsalted butter
4 large eggs
200 grams self raising flour
2 teaspoons vanilla extract
75 grams ground almonds
Method
Preheat oven to 180 Celsius
Grease and line, with baking paper, a 20cm round deep cake tin.
Beat the butter and sugar together in a bowl
Add the eggs one at a time and mix well until smooth after each addition, before adding the 4th egg add 25 grams of the flour and then add the egg and mix
Add the rest of the flour and ground almonds and mix until smooth
Put the mixture into the prepared cake tin and bake in the oven for 50-60 minutes, test with a toothpick to see if it's ready after 50 minutes. If it comes out clean it is ready
Leave in the cake tin for 5 minutes before turning it onto the cooling rack and peeling off the baking pater to cool completely.
Dust with some icing sugar and serve.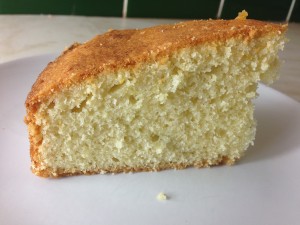 NEVER MISS A TIP
Subscribe today and get notified when I post new videos tutorials, tips and recipes.